6, rue des Grands Degrés, 75005 Paris
Phone: 00 33 (0)1 43 25 00 45 / E-mail: newsdurouvray@orange.fr
Tuesday - Friday 12:00pm - 7:00pm - Saturday 2:00pm - 6:00pm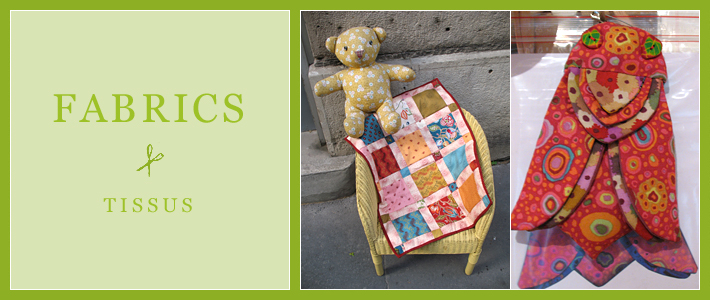 HOME > FABRICS > ROMANCE DE PARIS
FABRICS
Romance de Paris 2012
- Still avalaible fabrics are marqued by a green dot
Hearts & Floral
Diane de Obaldia tells the history of the "Romance de Paris" collection
Two years ago I travelled to Russia, and found myself one icy morning visiting Ismailovo (the huge and fascinating Moscow flea market). While strolling through the twisting labyrinth of stalls where the dealers heated their coffee in samovars and stamped their feet to keep warm (and guided by my daughter who lives in Moscow) I was attracted by some old Russian cotton shawls. They were bright, multicolored and decorated with lots of beautiful floral patterns. Immediately they inspired me to create a collection of fabrics using the scarves as a departure point. I was able to find and purchase a dozen of them. Just as I was pulling out my roubles to pay for my purchase, I heard music and a scratchy voice surging from an old phonograph in a neighboring stand. The familiar sounding voice was singing «  La Romance de Paris », an old hit song in France interpreted by Charles Trenet.
C'est la romance de Paris
Au coin des rues, elle fleurit
ça met au coeur des amoureux
Un peu de rève et de ciel bleu
I decided that would be the name of my collection! Back home in France, I hunted for samples of antique fabrics from Provence, because it had been these fabrics( from Nimes, Arles, Avignon) that had inspired the Russians in the 19th century for the shawls I found in Moscow... and thus I was able to constitute what I consider a joyous collection, rich in colors that co-ordinate and especially attractive, for quilts, decoration or for clothing.
Diane de Obaldia